Inspection-Audit-Certification services
Q-check is an independent Accredited Certification Body, operating since 2007, providing inspection, auditing, and certification services against specific Internationally recognized standards, schemes, and protocols.
Our mission is to continuously maintain sustainable, reliable, and high added value services to all clients. To achieve and maintain our mission and objectives Q-check approve, train, and evaluate the performance of its personnel, ensuring that they have acquired adequate expertise, knowledge, and competent skills.
The Management has committed and adopted impartiality and independent policies monitored and supervised by independent committees, whose reports can be shared by authorities, supervisory bodies and interested parties.
Q-check certification Body (Conformity Assessment Body) is evaluated and accredited by competent authorized state and bodies for the certification service it provides to Organization and businesses.
The Accreditation process ensures that the certification Organization has the ability, competence and the technical expertise to execute certification services according to its scope of accreditation.
Q-check holds the following accreditations:
Q-check cert has established long-term partnerships with other reliable Certification Bodies and Organizations that provide comprehensive certification services.
Collaborating agencies and organizations are reliable and specialized in their field of operation, so that our customers always receive reliable and globally recognized services of high added value.
Η Q-check cert έχει μακροπρόθεσμες συνεργασίες με αξιόπιστα εργαστήρια αναλύσεων που παρέχουν ολοκληρωμένες υπηρεσίες στα πλαίσια των αρχών που διέπουν τη Βιολογική Γεωργία και το AGRO 2
Collaborating Organizations
USB Certification – Turkey
İsmet Kaptan Mahallesi Hürriyet Bulvarı
No:4/1 Kavala Plaza K:2 D:23 35210, Çankaya, Konak İzmir – Turkey
E-mail: info@usbcertification.com
Phone : +90 232 446 44 16
Fax : +90 232 446 49 12
First Quality Certification
S.C.O - 37, SECTOR-12, PANCHKULA - 134 109, HARYANA (INDIA) Tel: +91 – 172 – 6535976
Mobile: 9815251166, 9216024403
E-mail: info@fqccertification.com
Url: www.fqccertification.com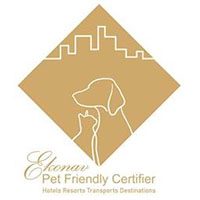 Ekonav Pet Friendly Certifier
Our clients have the opportunity to express a complaint or an appeal via E-mail or by filling a Complaints and Appeals directly downloaded by our website.
Q-check has established a relative procedure and appointed an independent Complaints and Appeals Committee dealing to address such issues. Appointed members of the committee collect all needed information, validate all selected information, and make independent decisions against selected evidence. During the cause of investigation, the committee may require knowledge, technical support or further information from the lead auditor / auditor, technical experts or related interested parties where deems necessary and prior to their final decision. Also, the Committee has the right to invite the appellant to explain verbally or present further information about a specific issue.
The complainant/appellant will be kept informed during the appeal process and will be formally informed in writing of the final decision by the General Manager.
Please fill in and return the Complaints and Appeals Form or directly contact Q-check if tou wish to raise a Complaint or Appeal.
For more information contact us: +30 2410 538 835 | info@qcheck-cert.gr